Proptech – taking disruption in its stride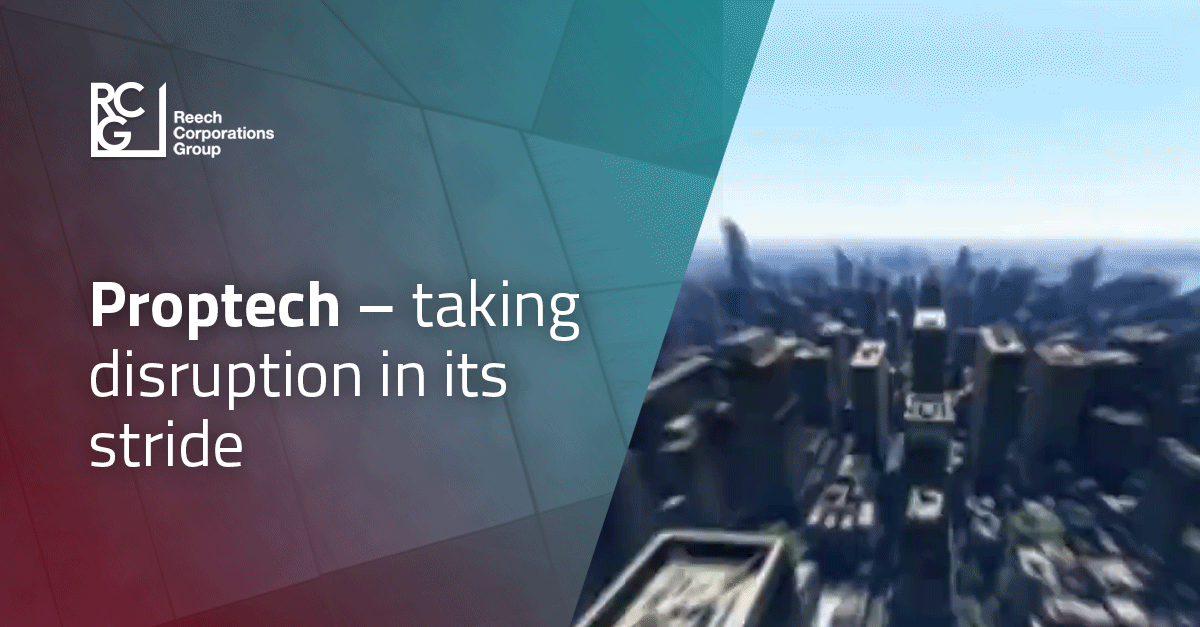 If ever there was a watershed year in our history, 2020 will no doubt go down as one of humanity's defining moments. No one could have predicted what was to come when the first news about a new strain of virus broke. It formed a kink in our collective pathways that redefined the way we live, work, play, purchase and communicate. While it has brought unprecedented heartache and despair, it has also fostered technological advancements that have benefited mankind in almost every aspect of life.
The road out of the pandemic is still not clear, but its impact on businesses and economies world-wide is in plain sight. Technology has been the accidental hero in the morass; it helped to produce vaccines in record time, it facilitated the mining of vast amounts of data for infection tracking and has helped businesses stay afloat by leveraging online services. One only needs to look at the recent performance of big tech firms to see the levels of interest in this accelerated innovation. The obvious winners in the tech space are healthcare, remote work technology, enterprise virtual reality, education technology, online shopping and cloud services but some other interesting contenders are emerging.
While many industries have been impacted by the pandemic, perhaps the one that has seen the most disruption is real estate, both in the commercial and residential sector. It is estimated that direct commercial real estate investment fell just short of 30% globally, to a low of $321 billion in the first six months of 2020, compared to the previous year.  Lockdowns, government mandated work-from-home and travel restrictions threw real estate investment into a state of flux. However, the property market is resilient and there has been a significant flurry of innovation in this space.
Proptech is starting to catch the attention of investors, while still a little brother to the massive Fintech industry, it is growing fast as the use cases are becoming more apparent. Investment in Proptech soared from around $186 million globally in 2011, to 23.8 billion USD in 2020. By comparison, according to a report by Innovative Finance, global fintech investment reached $44 billion in 2020, a 14% jump compared to 2019.
Fintech and Proptech are inextricably linked, as property transactions involve valuations, compliance, sales records, accounting, data collection and the exchange of money. We are starting to see these tech innovations merge and this will give stakeholders a very transparent view of their investments.
The potential of Proptech is significant and far reaching, for example, the story of how Proptech helped to make sense of the pandemic chaos makes for interesting reading. RE5Q helped the UK government locate ideal sites for testing by leveraging its AI/ML technologies and open data resources. They completed the task in just 24 hours, a task of this nature would have previously taken 3 weeks.  Investors are now using AR technology and big data to search and view properties, and landlords are using integrated systems to manage their property and tenant risks. Residential real estate platforms such as Zoopla and Rightmove are also examples of how Proptech has transformed the industry, and kept the market moving with virtual viewings.
Governments are also assisting with growth in the Proptech arena; in 2019 the UK Government launched a new advisory council dedicated to digitally transforming the property sector. They hold massive amounts of data on both commercial and residential properties, but this data has been locked away in siloed and sometimes outdated databases. They are now taking the lead from Big Tech and moving towards making data more accessible to organisations and individuals. This will create a sector of innovative private firms who can commercialise this data to aid investors, regulators, and developers. RE5Q has leveraged this shift to deliver information and insights to clients, for example, RE5Q AI makes sense of Big Data by extracting the most relevant information, automating the extraction, and then validating, curating, correcting, storing and updating it, then matches the data to user criteria. This produces extremely useful and accurate insights, for example, it can tell investors what yield an asset generated over the last 5 years, help them assess the best area to build a multi-story block of flats, provide instant insight into individual assets globally, and predict asset price changes from demographics to supply and demand factors.
The Proptech industry is evolving fast; companies which have leading technologies and strategies should become significant market players and even collaborate with the government to dominate the market – therefore there is a first mover advantage.
Proptech has the potential to lower transaction costs and properly securitise real estate which will ultimately benefit all actors in the market, and it may play a significant role in aiding first time buyers to participate in this wealth building asset. Processes that can be improved to facilitate this include automation of manual data input, platform integrations with credit providers, credit assessment, loan structuring, decision making, documentation and portfolio management.
These are exciting times for Proptech, it is an industry to track, not only due to the innovation, but its potential to truly help individuals and corporates to leverage their investments in this evolving and important asset class.